How Can You Make Time Stop in London?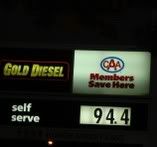 What happens when the temperature is 36o (48oC with the Humidex) and gas prices are at $1.13? People get a little cranky.
Ok, so what happens when they put gas prices down to $0.944 and most gas stations in the vincinity follow suit?
Time stops.
I was driving home last night in London and I saw gas prices at $1.13 and gas stations empty. Closer to home I saw that prices dropped to $0.944 and it was chaos and madness.
If you want cheap gas prices in London, you're best bet is to get to Flying J, but it's not uncommon to see long line ups. However, these long line ups at Flying J and coordinated, organized and managed perfectly. There is one way direction of traffic, and enough pumps to keep the cars moving.
When your local Petro/Shell/Sunoco/Esso puts their prices at 20 cents cheaper than the rest people stop whatever they are doing to get gas. Problem is, people are coming from all different directions, there are line ups spilling out to the street. People also getting a little irritable because some jerk in a sunfire or a miata jumped the line because they came in from the other direction, when clearly the unwritten rule was we were all going to line up in one direction.
I'm an organize (and sometimes control) freak, so I was a little miffed that there was a small number of attendants on duty and no staff trying to organize the masses (Ie. blocking one entrance off, so that all can line up without causing accidents, blocking one lane of traffic).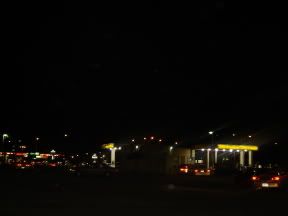 Unfortunately I had 3/4 of a tank and could only fit 10$ in. Most people were pretty light hearted. I joked to the person pumping next to me, "you'd think the gas was free or something."
UPDATE
:
London Free Press article
about it.

The price of gas in London jumped a stunning 17 cents yesterday -- only to fall again by nearly 18 cents at some city stations late last night -- even though the wholesale price paid by gas stations barely changed.

Londoners who went to bed Tuesday night with prices as low as 95.9 cents a litre were shocked to find prices had reached $1.124 by yesterday morning.

But by late last night, some pumps in north and east London boasted even lower prices than they did Tuesday night, at 94.9 cents a litre.