Can't Light Up? Drink Up Instead! Eau de Nicotine
Wow! Crazy stuff in the news today. Consider this: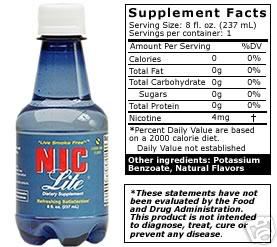 Are you a smoker feeling left out of society? Don't you hate having your hair and hands smelling like smoke? Want to have the convenience of your drug fix in the palm of you hand? Buy Nic Lite Today!
On a hot day, a tall glass of refreshing nicotine
Canadian Press

TORONTO — Canadian smokers may soon have a new alternative to lighting up a cigarette to soothe their need for nicotine — and it comes in a bottle.

Nic Lite, a lemon-flavoured, water-based nicotine drink that contains four milligrams of organic nicotine — equivalent to the amount of the drug found in two cigarettes — may soon be landing a spot on store shelves on this side of the border.

[...]


Health Canada spokesman Paul Duchesne said the product would be labelled as a natural health product but isn't approved for sale in Canada.

"Health Canada will only authorize for sale those products which it deems of high quality and safe and effective for over-the-counter use," Mr. Duchesne wrote in an email to The Canadian Press.

I guess this would really take the stigma away from smoking. But isn't a habit of relying on a bottle for your fix the same thing?
Source:
Globe and Mail