Aidan Lumley
This is my 100th post since I started my blog. Although this normally would be a celebretory event, I would like to dedicate this post to Aidan Lumley.
Background information:
Aidan, you were loved, and we will miss you

December 05, 2005

Aidan Lumley January 6, 1985 - November 27, 2005

Early in the morning of Sunday, November 27th, Trent student Aidan Lumley was shot to death on the streets of Montreal, shortly after exiting an after-hours club in the city.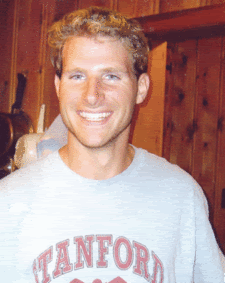 Many people have heard various rumours over the past week about a Trent student meeting a violent end, but the who's, where's and when's have certainly become the subject of uncertainty. Although not everyone knew Aidan Lumley well, the nature of Trent's relatively small, close-knit community has ensured that by the time this article is in print, it will be news to few. One of the unique advantages of attending a small university is the ability we all have to make an impression on our fellow students. No one did this better than our friend Aidan.

As an active member of the swim team, a regular sight on campus and a frequent patron of Peterborough's various pubs and clubs, few have been unfortunate enough to have never seen his mischievous grin. On the swim team, he was a strong competitor and a welcoming, encouraging presence to novice swimmers, easy to spot wearing his Speedo and leather jacket on the pool deck. Aidan had an incorrigible love of country music, demonstrated best through his uncanny renditions of various country divas' hits. He had an impressive collection of cars for a university student, including a Trans Am, a Mustang and a motorcycle. In addition to these, and perhaps oddest of all, he and a few friends had a limousine, which became the focal point of many evenings out with his closest friends. It was on these occasions that Aidan was most himself, and it is fitting that Aidan's last night was spent with friends. One can't hope to do justice to a life, even one cut unjustly short, on a single page, but hopefully this will give an impression of the way that Aidan affected those around him, and the blow that his death has been.

[...]

Aidan, you were loved, and we will miss you.

Allison Hayward
For more details about the night's events, the
McGill tribune
has an detailed account from what is known to have happened.
I knew Aidan because I lived with members of the swim team in second year. We hosted a Hallowe'en party in 2004 and where I met Aidan for the first time. Although, I didn't know him very well, his death has affected me. I get really upset with someone my age being dead. Dead. I can't even fathom what that even means. The fact that his murder is still unsolved is also very upsetting.
To this day, his death still brings tears to my eyes, because of how senseless it was, shot in the back twice outside a bar.
Very tragic indeed.